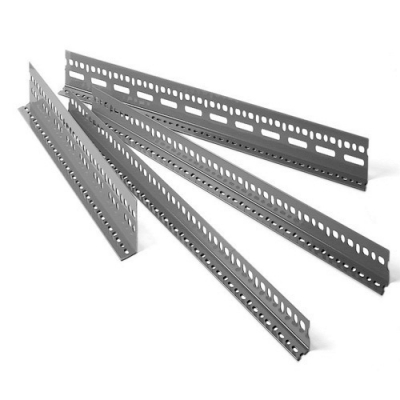 To expand the amount of storage space available in warehousing operations, slotted angle racking systems are crucial. The team of professionals at S K Steel Products is committed to providing the best Slotted Angle Racks in Delhi at pocket-friendly prices. They are specially made for carrying medium-weight to hefty products. Angle racks are widely accepted solutions for lack of storage in several industries. They are lightweight and portable which makes the relocation of these racks a hassle-free task.
Slotted Angle Racking Systems are an economical shelving option for warehouses and other facilities that require storage space for heavy-duty goods. These racking systems are available in the market at affordable prices. The use of angle racks helps to increase the existing storage space and enhance the productivity of your business as well. These shelving systems are efficient and function as they are applicable to different storage requirements in several commercial and industrial establishments.
Uses of Slotted Angle Racking Systems
Angle racks are durable, lightweight, and cost-efficient shelving solutions for warehousing facilities. Our company is the leading Heavy Duty Slotted Angle Racks Manufacturers in Delhi. These racking configurations are beneficial in the management and easy accessibility of stored products. They are ideally utilized in Warehousing for various products, Security cages, Partitioned shelving, Drug store racks, and stocking products in shops and supermarkets. Slotted angle racking systems are used to organize the goods and make the space look clutter-free.
Our Slotted Angle Racks are highly demanded because of the following features:
The structure of the angle racks is sturdy and portable which ensures longevity.
They allow optimal utilization of the existing space. Additional storage space can be created with these systems conveniently.
These shelving configurations are designed for the systematic organization of goods which allows ease of access and enhanced productivity.
They are compact and portable which ensures convenient relocation or adjustment of these racks.
4 Different Types of Slotted Angle Racks
Slotted Angle Racks are mechanical storage solutions that consist of a metallic frame that secures the shelves. These racks can be cutomized according to the warehouse or workplace storage layout. We are the top Slotted Angle Racks Suppliers in India.
Industrial Slotted Angle Racks
These racks have angled slots built to store products efficiently. It provides a sleek looking storage solution that is long-lasting. Industrial angle racks are cost-efficient and abrasion-proof.
Pigeon hole racking configurations are widely used in factories, clinics, institutions, and libraries. They are lightweight and long-lasting storage solutions. These racks are used to organize the goods effectively and separately.
Stainless Steel Slotted Angle Racks
SS slotted angle racks are constructed using stainless steel which provides sturdy and reliable structure. They are resistant to corrosion and can be installed or relocated conveniently. Warehouses, shops, and offices utilize these high-quality racks.
Mild Steel is used to produce these racking systems. They are functional, efficient, and portable storage systems used in warehousing facilities. These racks have high mechanical strength and strong structure.
Advantages of Slotted Angle Racks
These racking solutions are beneficial for maximizing the space that is available in warehouses in a number of ways. They are essential to meet the storage needs of various industries. We are the chief Slotted Angle Racks Exporters in India. They have a long-lasting and reliable structure that makes them withstand wear and tear from frequent use and transportation. These racking systems can be customized easily according to the storage requirements allowing optimal space utilization.
Our slotted angle racks are a versatile product since they are easily adjustable and can be relocated to meet the storage needs of several industries. They are a comprehensive tool with extensive use in small and medium-sized industrial establishments.